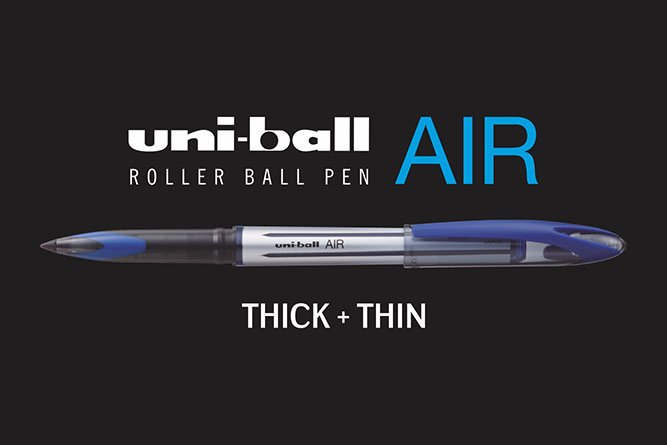 Experience the next generation of roller ball pen with the uni-ball Air.
Featuring Smart Tip technology, the uniquely designed roller ball tip of the Air allows free flowing ink to glide smoothly across the paper for skip-free writing.
With the capability for variable line widths according to pressure, Air adjusts to your writing style and gets better over time. The Air writes like a marker but with the durability of a roller ball for superior, smooth writing.
Air UBA 188 M
Superior, smooth writing experience, Scratch-free writing with a smooth glide
Variable line widths adjust to your writing style, Bold ink lay down
Writes soft like a marker but durable like a roller ball
Innovative Smart Tip technology writes at any angle
0.5mm Tungsten carbide ball
Plastic (PC/PP)barrel
Stainless Steel Tip
Ink Colour : Black, Blue, Red

Air UBA 188 L
Superior, smooth writing experience, Scratch-free writing with a smooth glide
Variable line widths adjust to your writing style, Bold ink lay down
Writes soft like a marker but durable like a roller ball
Innovative Smart Tip technology writes at any angle
0.7mm Tungsten carbide ball
Plastic (PC/PP)barrel
Stainless Steel Tip
Ink Colour : Black, Blue, Red

Air UBA 188 EL M 0.5
Superior, smooth writing experience, Scratch-free writing with a smooth glide
Variable line widths adjust to your writing style, Bold ink lay down
Writes soft like a marker but durable like a roller ball
Innovative Smart Tip technology writes at any angle
0.5mm Tungsten carbide ball
Plastic (PC/PP)barrel
Stainless Steel Tip
Ink Colour : Blue | Body Colour : Pink, Light Green, Light Blue, Orange, White

Latest #UniballAIR TVC #Uniballindia #ANewPointOfView